Mark was ordained in 1989 and served in Whitby, Weston and Richmond Hill before coming to St. George on Yonge in 2013. He has a passion for the work of social justice and advocacy, encouraging ministries that reach out to the vulnerable of our society and those most in need. He is an associate of the Sisterhood of St. John the Divine and enjoys time at the convent for reflection and presiding at the Eucharist as part of their monthly rotation. He enjoys music and linking his hobby of photography to his spirituality.
His favorite scriptural passage is:
"Do not worry about anything, but in everything by prayer and supplication with thanksgiving let your requests be made known to God. And the peace of God, which surpasses all understanding, will guard your hearts and your minds in Christ Jesus." (Philippians 4: 6-7)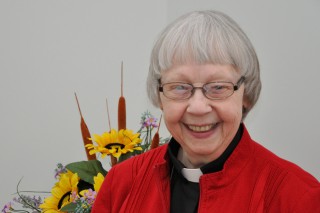 Sister Connie, as she likes to be known, is a member of the Sisterhood of St. John the Divine, a priest and an adjunct instructor at Wycliffe College, where she teaches courses on prayer and Benedictine spirituality. She recently co-edited a book on the history of the Sisterhood entitled A Journey Just Begun, and she loves poking around in church and city archives. In her spare time she enjoys film, music, art and reading good mysteries.
Her favourite scripture passage is from St. John's gospel:
"This is my commandment, that you love one another as I have loved you." (John 15:12)
Craig was born in Fort Frances, Ontario and attended the University of Manitoba. His home church is Grace Church, Scarborough (Anglican). He works with the Bishop's Committee on Prayer. He has worked in churches for many years, and joined the staff at St. George in 2011. Craig enjoys listening to music and playing the clarinet, as well as reading novels and works of non-fiction. He has a regular column in St. George's newsletter entitled "Faith on Film and Television," in which he reflects upon faith as it is portrayed in these vehicles of entertainment.
His favourite event in the Old Testament is when God saves Shadrach, Meshach and Abednego from the king's fury in the fiery furnace (Daniel, chapter 3), and his favourite teaching of Jesus is "I was a stranger and you welcomed me" (Matthew 25:31–46).
Morning was baptized into Christ in 2002, confirmed and joined the Anglican Church on April 7, 2013. She graduated from Tyndale Seminary in May 2014 and joined St. George on Yonge in July 2014. Morning has a passion for sharing the Gospel and teaching Christian doctrine. She is an animal lover and enjoys reading and listening to music.
Her favorite passage of scripture is:
"Now to him who by the power at work within us is able to accomplish abundantly far more than all we can ask or imagine" (Eph. 3:20)
Morning传 道于2002年接受基督信仰并受洗归主,并于2013年4月7日领受了坚振礼而加入圣公会教会。她2014年5月由天道神学院毕业后便于同年7月15日即 在圣公会圣乔治堂作为国语传道开始服侍工作。Morning传道有着热心传扬福音以及教导基督教信仰教义的热情。同时,她也是个动物爱好者,她和她的先生 Sam曾经养过两只狗,其中一只于2014年去世。她喜欢阅读、音乐等等。
Morning传道最喜欢的圣经金句是"上帝能照着运行在我们心里的大力,充充足足的成就一切超过我们所求所想的。"(弗3:20)
Montreal-born and Toronto and London (England) trained, Michael Leach is in his 40th year as an organist and choir director. As a pianist, organist and choral conductor, Michael has performed widely in Canada, the USA, England, France and Italy. He is also a longtime member of the Faculty of Fine Arts at York University, Toronto, and is very active in the fields of theatre and dance. Michael has been with St. George's since 2008.
His favourite scriptural verse is:
"O God, thou art my God: early will I seek thee." (Psalm 63:1)
Philip started working as part-time custodian at St. George on Yonge in January 2012. He has a passion for the job and is so happy to be among the staff and family of this Anglican community. He is married with a wife and two children.
His favourite scriptural passage is:
"I can do all things through Christ who strengthens me." (Philippians 4:13)